Covid kept us indoors, so we got used to a typical date night with a delicious meal, a movie, and great sex. But since the restrictions gradually lifted, outdoor venues began to open up – parks, beaches, etc. So why not translate that time in fresh air to outdoor date ideas you can enjoy with your partner – for fun, romance, or adventure?
If you haven't yet considered spending more dates outside with your partner, maybe it's time to ditch the clubs, movie theatres, bars, and restaurants and absorb some fresh air for a change. And here's a list of the 27 best outdoor date ideas you will find.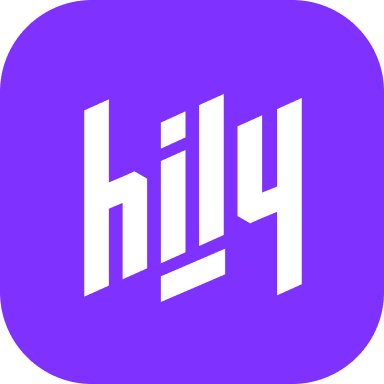 Get Hily! We have over 26 million users with whom you can establish a meaningful connection based on what you're looking for.
Install app
10 Fun Date Ideas for the Non-Athletically Inclined
Research studies demonstrate the physical and mental health benefits of mild, moderate, and strenuous outdoor activities. One study even found that just two hours a week outdoors had some pretty amazing results! So why not combine health benefits with romantic excitement and go together for an outdoor date?
When this is your first date or a relationship is new, these fun outdoor date ideas can "break the ice" and stave off those awkward silences when you both are unsure what to say. If you're doing something fun, there will be smiles, laughter, and plenty to talk about afterward.
Related reading: The Cutest Ideas for First Date Outfits for this Season
An outdoor date doesn't have to involve lots of physical activity. You can do many things, depending on your climate and the season. We've chosen the top 10 outdoor date ideas if you're not into sports at all.
1. Farmer's Market
If a local farmer's market is nearby, you can find lots more than just fruits and vegetables. You'll also get an idea for each other's food tastes.
You both may be able to introduce veggies that the other has never tried before. The end result? Buy several, take them to your place, and grill them on the deck or patio, scoring each on a scale of 1-10. A bottle of wine will perfectly complete this date.
2. Live Music Event
Plenty of parks and food garden venues have live music of all varieties in the spring and summer months. Find one near you, take that blanket or lawn chair out of your trunk, get your favorites from one of the food trucks, and have a night under the stars.
An outdoor concert may be just the thing for a date, no matter where you are in your relationship.
Related reading: Out with the Cliché Second Date Ideas
3. Balloon Glow Event
If you don't have such an event nearby, see where the nearest one is and plan to attend. These are pretty awesome and a fun way to spend an evening. And afterward? Have a nice meal on a local restaurant patio or enjoy drinks at a rooftop bar.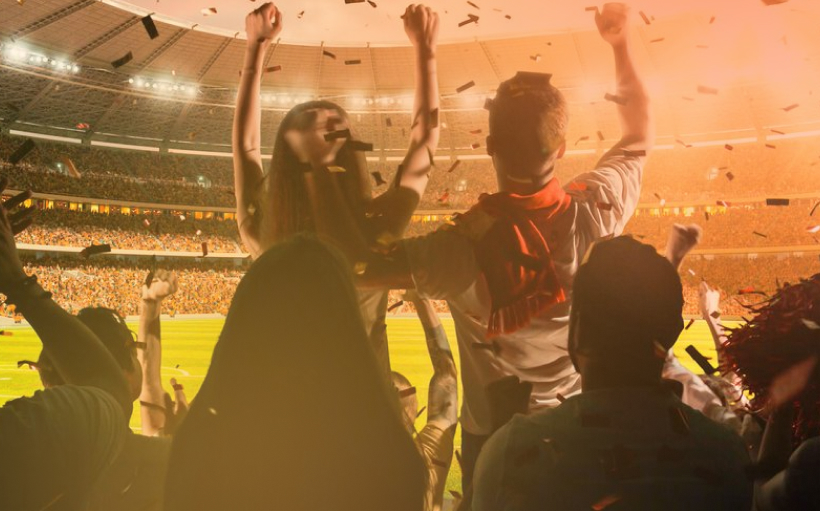 4. Outdoor Sporting Event
There are plenty of local teams if you are not near a large city with professional ones. Or you could make a day and evening of it by taking a road trip to a professional baseball game – good conversation along the way.
Attending an outdoor sporting event as a spectator is always a good idea.
Related reading: Rainy Day Date Ideas You Ought to Try
5. Outdoor Movie Night
Here's a fun date idea for you, your date, and some friends. You can rent the equipment, set it up in your own backyard, cook up some snacks, fill that cooler, and have a chance to socialize with one another's friends.
Barring that, a fun twist would be to get a group together and go to a drive-in movie theater. The drive-in was big in the 50's but is experiencing a revival now.
6. Play Mini Golf
This is a fun outdoor date idea, day or night. Combine it with a jaunt back to your hot tub or one at your apartment complex, and what better way to relax and chat?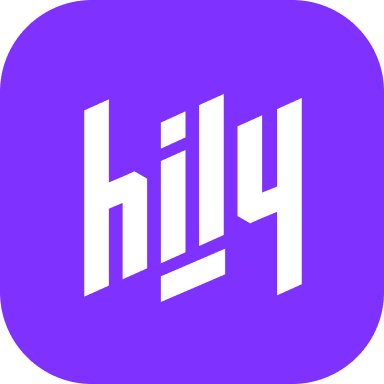 Join Hily community! So many singles to chat, flirt, make friends with, and start a romantic relationship. Check it out and see yourself!
Get Hily
7. Water Balloon Fight
So, you haven't done this since maybe your adolescence. But this is one of those cute outdoor date ideas, a perfect outdoor date idea for hot weather.
Get some friends together, set up two teams, and have at it. There are lots of supplies available for making the best water balloons ever.
8. Shopping at a Nursery
If you have a yard that might need some landscaping and your date is into the same thing, go to a local nursery and talk about what would be best for your yard. Make those purchases, go back to your place, and get digging.
If your love languages are acts of service and quality time, such a date idea is a great combo for your couple!
Related reading: Putting Love into Action – It's a Language
9. Outdoor Christmas Tree or Bushes Decoration
Here's one of those great winter outdoor date ideas. If you have a tree or two in your yard, or maybe some decent-sized bushes, have a decorating winter date, followed by hot chocolate and some time admiring your work. Then, take a drive to absorb the Christmas city lights too.
10. Outdoor Festival
These are usually theme-based and happen throughout the year. There are Renaissance fairs, Greek festivals, fall festivals, etc., and they are all over the place. Food and drink are abundant, so walk around and enjoy this date night or day.
Select fun and leisurely date activities you believe your date will enjoy, even if they are new experiences.
This list of fun outdoor date ideas could go on and on – a garden tour, a museum, a leisurely bike ride, a visit to a local farm to pick veggies or fruits, hanging out at an outdoor coffee shop, a visit to a wine tasting venue, even bird watching if there is interest. Visit a hot springs or camp along a lazy river.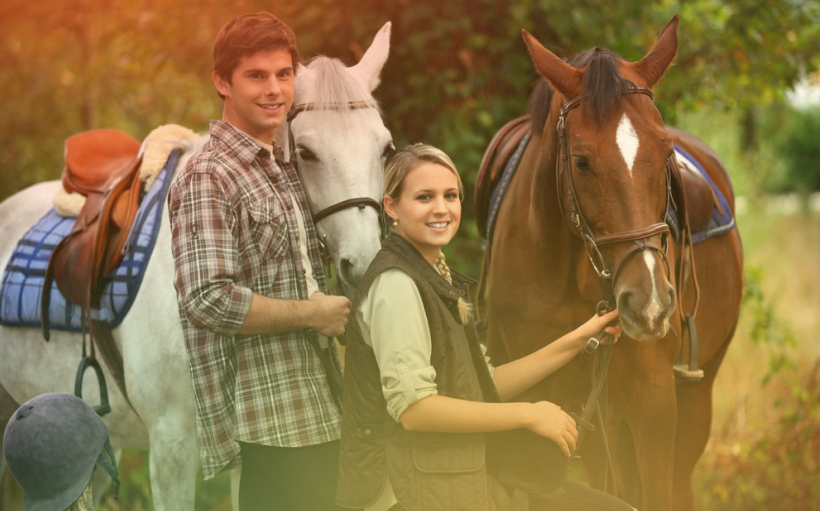 4 Outdoor Date Ideas for Moderate Physical Activity
If you want to find a great outdoor date activity that is mildly physical, try these 4 date ideas.
11. Horseback Riding
There are options to go out on a trail by yourself or with a guide if you are inexperienced. Horses are big and kind, so you will have lots of fun if you're not scared of these animals!
12. Scavenger Hunt
All you have to do is Google adult scavenger hunts and you will get a host of ideas and hunt lists. You and your date will each invite friends to participate, divide into teams and have at it.
End up back at your place where bonus points and prizes await, along with snacks and drinks. And you and your date will have some quality time setting it all up.
Related reading: Quality Time – It's a Love Language
13. Fishing
This is one of those fun outdoor date ideas requiring one of you to be experienced. You can rent rods or bamboo poles, get some bait, and find a lake in a local park or stocked lake that may charge a fee. You don't have to keep what you catch, but if one of you knows how to clean and cook them, all the better.
Once your gear is put away, playing catch with a frisbee might be fun, too.
14. Float Trips
Here's a great outdoor date idea with a date and friends. Check out campgrounds close by. They will have all the gear for float trips – by canoe, kayak, or raft. You can plan a day or overnight.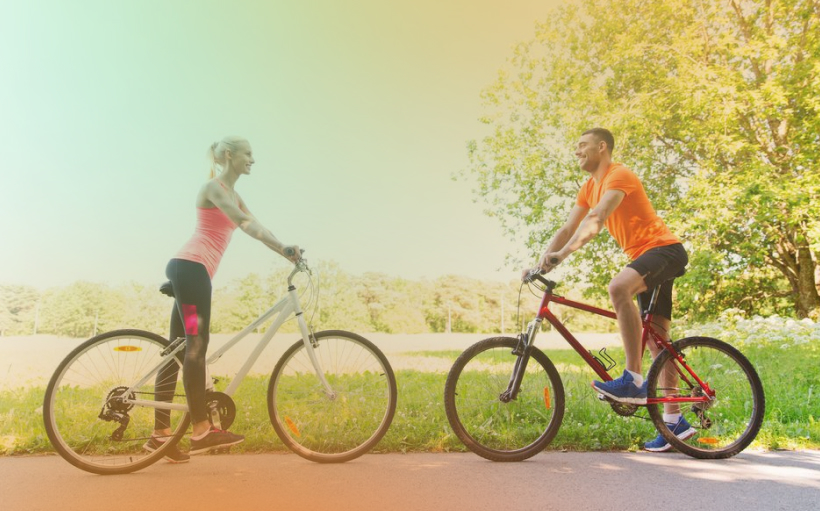 6 Outdoor Date Ideas for the Physically Active
There are many possibilities in all seasons for outdoor date ideas if you and your date are fit and like being active.
15. Hike a Tough Local Trail
If both of you are equipped and geared up, this can be a great date idea. Finish it off with a trip to a local juice bar to make plans for a possible evening date
16. Beach Volleyball
Gather some friends and head to the beach for volleyball. Many beaches have existing net setups. Follow the game with a swim or shower, and hit your cooler for food and drink. Or locate a fire pit and cook some hot dogs and s'mores.
17. Ice Skating
This is a great winter activity if there is a rink nearby, for day or night. Skate rentals should be available if you don't own your own. Just be certain your ankles are strong. This can be more rigorous than you might expect if you are not experienced.
18. Plan a Rock-Climbing Afternoon
This is an activity only for experienced climbers. If you and your date are such people, you'll certainly get a workout together.
19. Go Downhill or Cross-Country Skiing
If you are not experienced, find a facility that has beginner's lessons and slopes. how fun to learn together.
20. A Bike Ride or Mountain Biking
Bike rides have all levels of skills and stamina requirements. Choose a ride that suits your date.
Outdoor date ideas for fun dates are great to think about and plan for a great outdoor date night or day activity. But suppose you move forward in your early relationship and are ready for more romantic outdoor date ideas. You're in luck. Here are some of those too.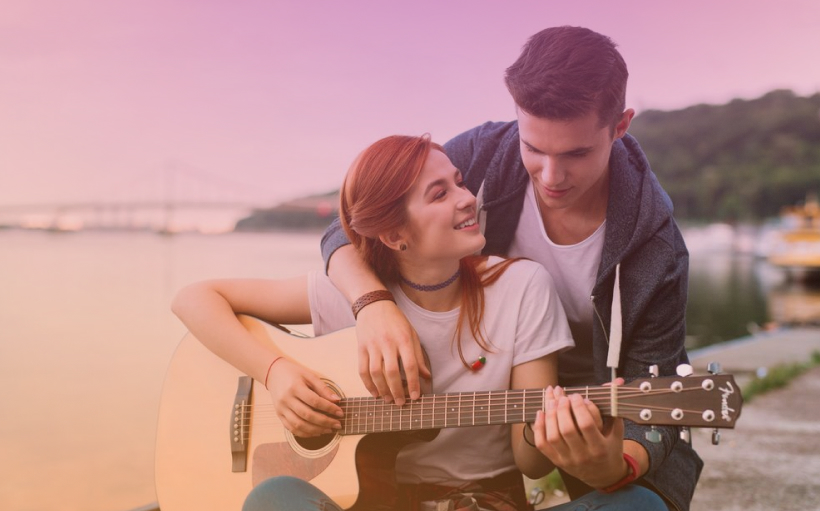 7 Best Romantic Outdoor Date Ideas
From this list, you should find several ideas for a super romantic date. Even combine a couple of them to make the date last longer!
21. Take a Boat Cruise
There are plenty of large lake and river cruises. Have dinner, slow dance, and cuddle on the deck. And some of these cruises extend overnight with sleeping quarters if you are that far along in your dating relationship.
22. Watch a Sunrise Together
Rise and shine. Go to the beach or the top of a high hill, wrap up in a fuzzy blanket, and watch the sunrise together. Stay a while and just talk about your futures and bucket lists. Once the day begins for everyone else, have breakfast at a cute outdoor cafe.
Watching the sunset from the same vantage points can be just as romantic, followed by dinner on a restaurant patio.
23. Outdoor Dancing – Just the Two of You
Put together your own playlist, grab your device, a bottle of wine, and go dancing in the moonlight. Where to do this? Anywhere from an isolated spot in a park or on the beach to your own backyard.
24. Have a Picnic
Too common and kinda boring you say? Well, not so fast. There are picnics and then there are unique picnic ideas! Some are a bit complex, but WTH? Isn't your lover worth it? Check out how you can bring
25. Turn Your Backyard into a Romantic Outdoor Spot
This is one of those spring and summer outdoor date ideas that you can use more than once. Create a space in your backyard – a small table, some solar powered lights or strings of lights on a canopy, some comfy chairs of a cozy bench – get creative here. With a grill nearby cook an amazing meal and fill your cooler with favorite drinks. Don't forget the anti-bug candles. Settle in for the evening and watch the stars.
26. Take a Sleigh or Carriage Ride
What's winter and Christmas all about anyway? For couples in love, or soon to be, winter can be as romantic as any summer beach date. A perfect outdoor date idea for the season is to take a sleigh or carriage ride through the streets of an old-fashioned setting. If there isn't an "old town" nearby, take a drive to one. Cuddle up in a blanket while your driver takes you to see the lights and sights. Finish off the date with hot chocolate or your favorite cold weather beverage while you talk sweet nothings to each other.
27. Visit a Botanical Garden in Every Season
While this may not seem all that romantic, think about it. Being close to nature heightens our senses – the visuals, the smells, the awe of all that nature offers us. it can conjure up all sorts of feelings that you two are part of an amazing universe and yet wonderfully a couple within it. Yes, this can be highly romantic.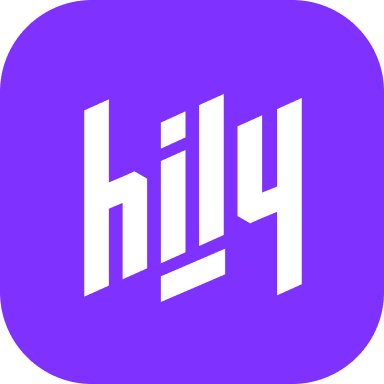 Download Hily app and connect with singles online! Use fun icebreakers and pass our Compatibility Quiz to find exactly what you want.
Meet your person today
Relationships Are Built on Time Together
Whether you are just starting out on your dating journey with that someone you think may change your life, or you are in an exclusive relationship that has become a bit mundane, having a list of outdoor date ideas may be just the thing to add some spark to a relationship – whether you choose fun things or romantic experiences.
And there are so many benefits. Think just in terms of health. Relationship expert Rachel Pace, has this to say about all of the health benefits that come from romance: "The status of your relationship can have a direct effect on your health…Happy relationships are great blessings full of love, comfort, and laughter."
So, build your relationship on time spent together. And make some of that time outdoors. These outings don't have to cost a lot, just so they are meaningful and give the two of you time to have great experiences together. Be in the open air, soak up the sunshine, the snow, the heat and the cold, and just enjoy your togetherness.