Couple tattoos are a well-established way for two people in love to show the world how they feel. Done correctly, matching tattoos are quite sweet too. Some are even clever! But once poorly done, a tattoo on two people can lead to double the regret.
The key to making a gorgeous scripted tattoo is choosing a meaningful tattoo and finding the right tattoo artist. If you think you're ready to commemorate your relationship with your better half, keep reading. These 17 tattoo ideas help you decide on your new ink.
17 Inspirational Couple Tattoo Ideas
Matching couple tattoos are widely popular for many reasons, but the main one is that they symbolize that the two partners are a perfect match for each other. At the same time, if there is a breakup, you can still wear your matching tattoo without anyone noticing that there should be another "half" somewhere.
Pretty important if you hook up with a new squeeze – saves a lot of explanation. But, overall, a matching couple tattoo mirrors how you both feel about each other.
Do you still feel confident about matching couple tattoos? Great! Now, you just need a fantastic idea. We've found some amazing body art. You're sure to find inspiration here.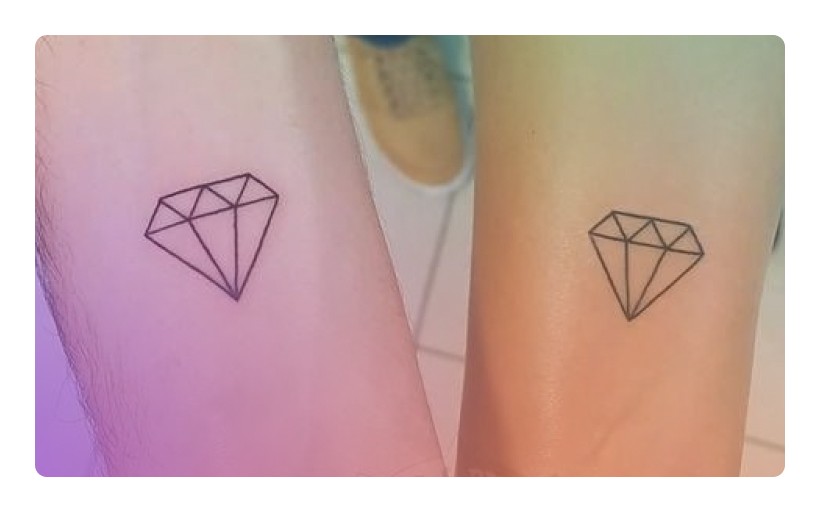 1. Diamond Couple Tattoos That Match
You are diamonds to each other – precious gems – and your relationship sparkles just like this gem. Matching diamond tattoos scream "precious value" about your love! Think about it: is there any idea more perfect than this?
There are so many diamond options here – placement and size being the biggies. Arms, shoulders, wrists, and even fingers. And adding color is also a popular option. So, this is our #1 idea for matching couple tattoos.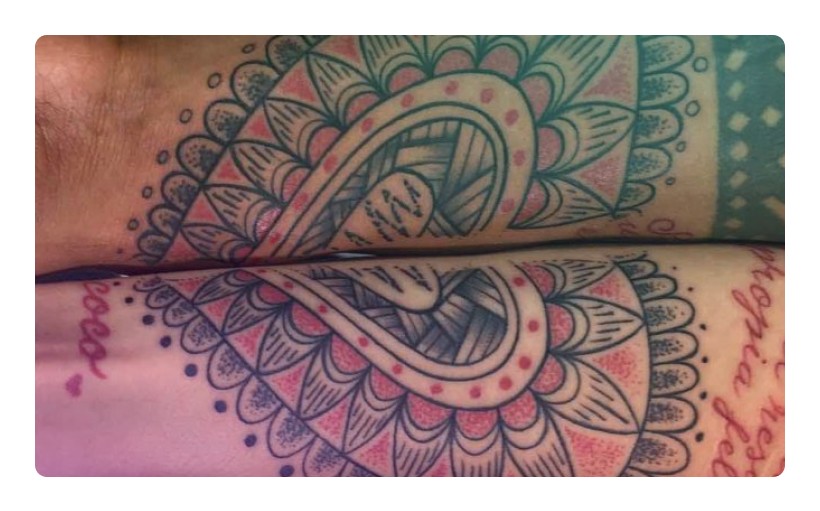 2. Matching Hearts
Hearts are also popular matching couple tattoos. Why? Because they shout love for each other. And getting these symbols speaks volumes beyond just Valentine's Day.
Again, these matching tattoos come in all shapes and sizes, get pretty elaborate, and can be placed anywhere. But if you have a heart somewhere visible, how do you explain it to someone new? Maybe you just love yourself? That's certainly an option. You can get gregarious or simple with such tattoos.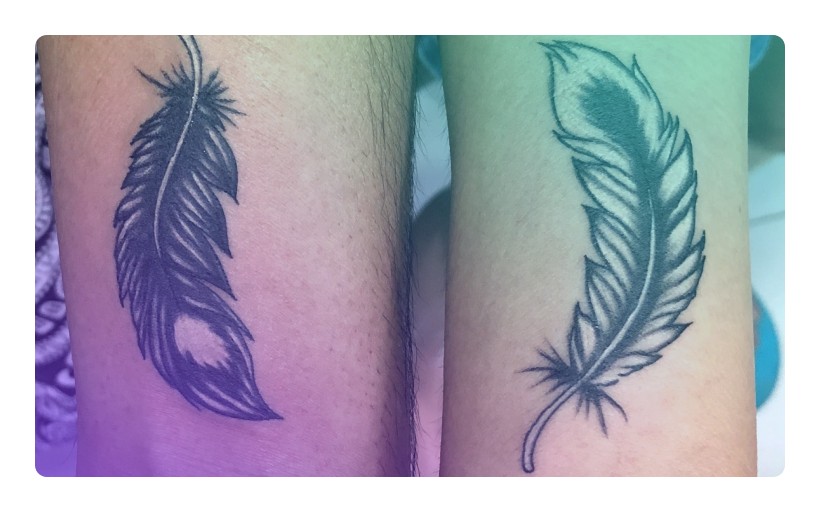 3. Matching Feathers Couple Tattoos
Feathers have a host of symbolic meanings:
Couple tattoos with feathers can symbolize the liberation a partnership brings
They can symbolize strength in a relationship (think eagle or hawk feathers)
Feathers represent the wisdom of choosing one another (think owl feathers)
All in all, feathers make such wonderful statements. What statement do you want to make wit your feather tattoo design? Is it freedom, trust, honor, or strength? It's up to you to choose.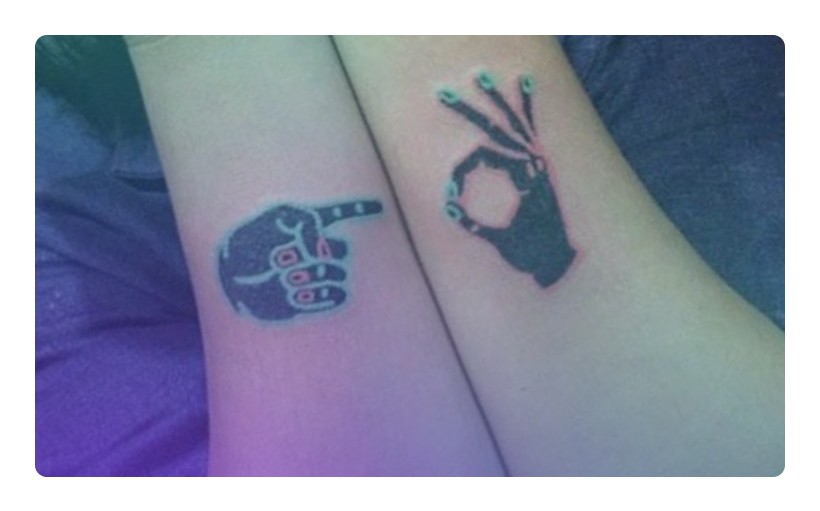 4. Couple Tattoos with a Special Meaning
Sometimes matching tattoos say something meaningful about a couple. Flower children from the 60s, for example, might have matching peace signs. A power couple might have a matching martini couple tattoo. A moon couple tattoo won't be an exact match but very close. For example, a moon tattoo might be one-half of a moon facing each other. And which symbol is the perfect description of your power couple?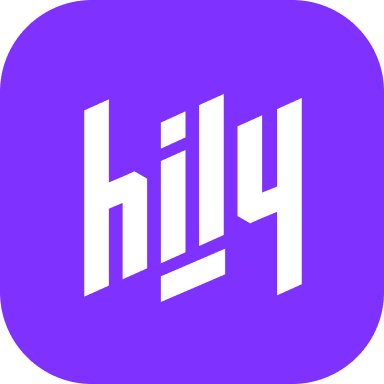 Establish a genuine connection on Hily! Try chatting with singles on our app, the love of your life can be waiting for you here.
Download Hily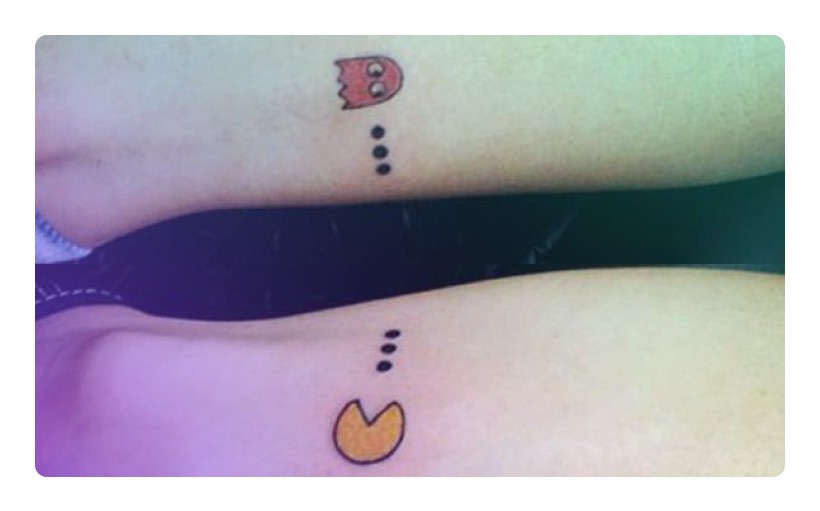 5. Pacman
This classic video game where Pacman runs around eating dots and gobbling up the challengers is something that everyone knows, has played, and certainly remembers. Here's a funny couple tattoo with one of you gobbling up the other, based on that game.
Use it as an inspiration to make cute couple tattoos based on your favorite video game!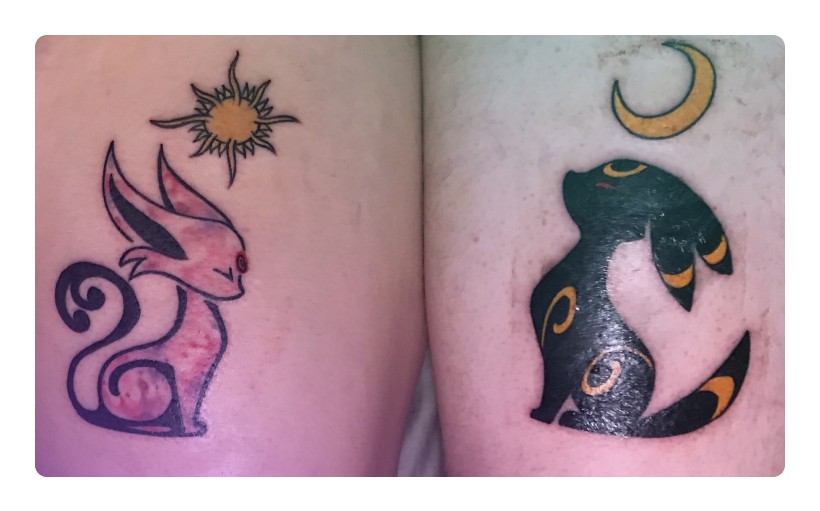 6. Favorite Pokemons
Pokemon is another widely popular franchise that has amassed billions of fans worldwide of different ages and backgrounds. As it brings so many people together, it is unsurprising that Pokemon-based tattoo designs are often picked as tattoos for couples.
Referred to as one of the symbols of Yin and Yang in Pokemon, these two halves make a whole as they often represent opposite results of the same event.
IE: Developing one's relationship and growing close either during the day or at night. With this development in the relationship, these two are a perfect example of the work you both have put in, in order to make the relationship you have work.
<pRelated reading: A Guide to Growing an Exclusive Relationship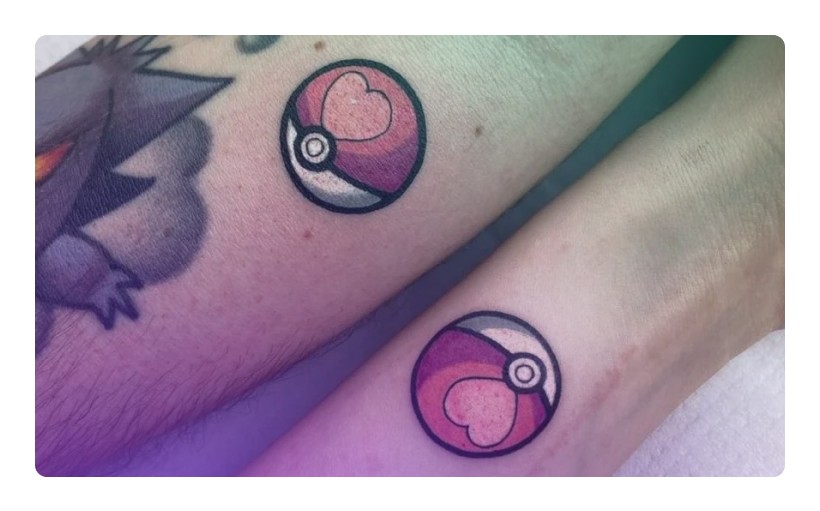 7. The Love Ball
Along with tons of different Pokemon creatures, this franchise offers a wide range of meaningful items that can be used in creating meaningful couple tattoos. The love ball is a perfect example of an item that can be used to create matching tattoos for you and your partner.
<p">Sometimes the best couple tattoos are those that work fine on their own – but still can be pinpointed as something that goes together when they are seen together. You can even take it further by getting your favorite Pokemon tattooed and having your partner get yours on their skin.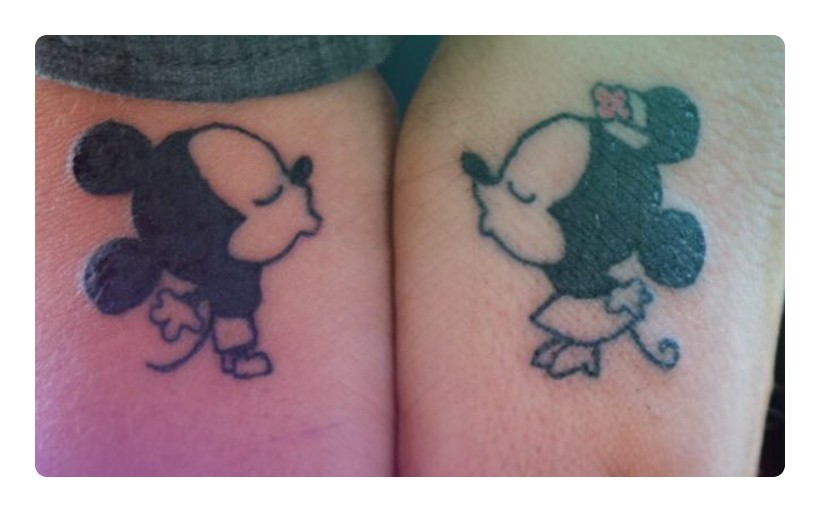 8. Mickie and Minnie
The original Disney duo, Mickey and Minnie Mouse, have been together for years and shared trials and tribulations over time. While it may scream basic for many, there is a reason why these two work so well for matching couple tattoos.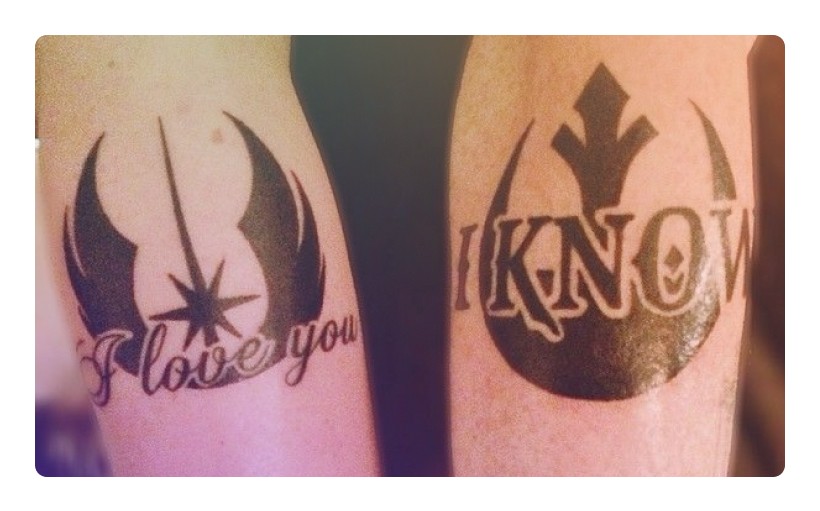 9. Star Wars
Star Wars offer so many tattoo options: matching light sabers, the two original robots, the ships, and such. Most of these will not be small couple tattoos, nor are they likely to be minimal.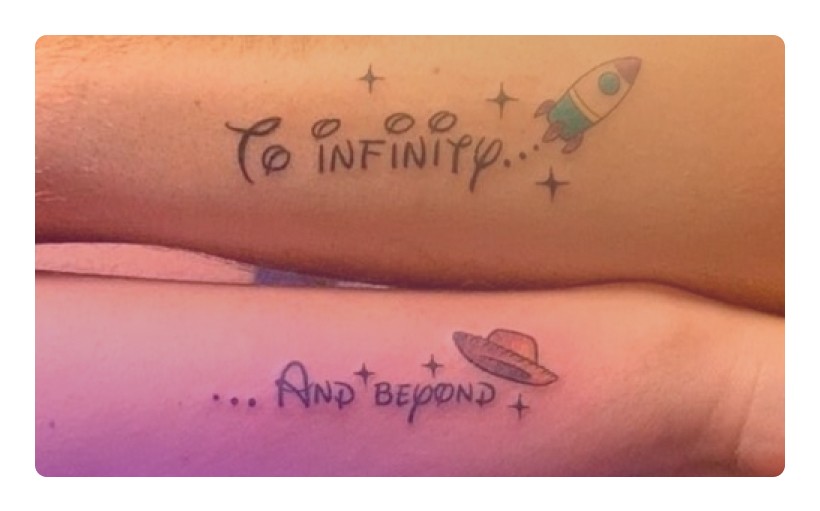 10. Two Halves of One Quote
Disney has inspired many over the years and has always been something most people feel connected to, thanks to remarkable characters and catchy words. Use some of its thought-provoking ideas for your couple tattoo!
With many expressions tied into relationships such as friendship or romance, these quotes tend to fuel the drive many have for each other.
<p">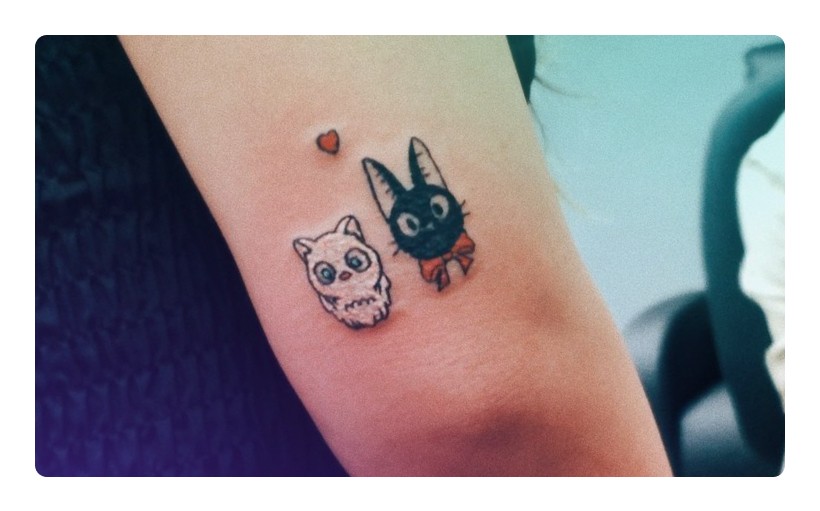 11. Jiji and Lily (Studio Ghibli)
Studio Ghibli is a film studio based in Japan that has amassed a following worldwide. These films often romanticize the beauty and adventure of everyday life while also throwing in supernatural themes, friendships, romance, and more. With these themes, many couples feel a solid connection to certain films in the franchise and notable character pairings.
Jiji and Lily, an adorable black and white cat duo in the movie Kiki's Delivery Service, are a great example of how opposites attract. A snarky boy who grew up in the country and a refined city girl. They are even shown to go and have 4 kittens together at the film's end. While Lily seems to be rather forgotten by people, these two halves make a perfect whole.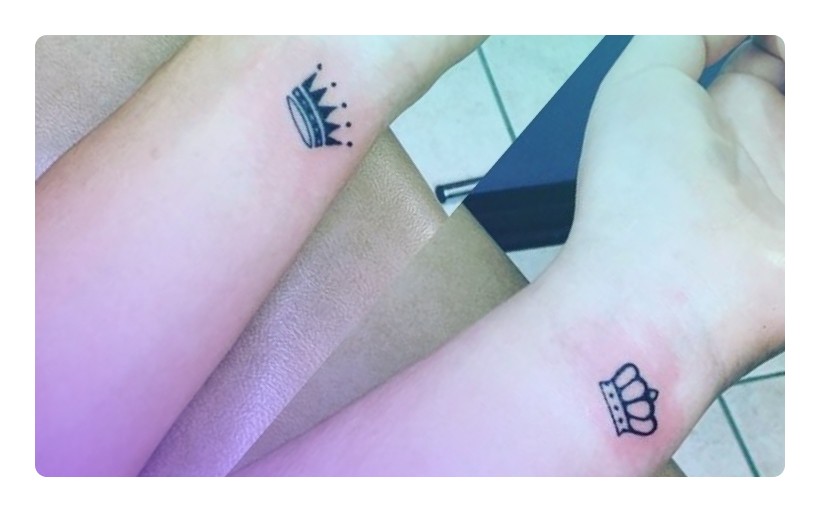 12. Classic Crown Tattoos
Some things never go out of style, like bacon and eggs or peanut butter and jelly. Partner and married couple tattoos and be cute and funny, of course, but when couples want to memorialize their big commitment, they may go for tattoos that symbolize their eternal love – ink that will forever remind them that they are truly in it for the duration.
Two of the most common tattoos for heterosexual, gay, or lesbian couples are crowns. Obviously, a king and queen tattoo is common and popular and are often small couple finger tattoos. Also, you can put these tattoo designs on your wrists and even ankles.
Other classic couple tattoo ideas can be small and sleek – simple tattoos on ring fingers, small tattoos with thin lines on other fingers, or a wrist tattoo that may be more elaborate:
This can be a soulmate couple tattoo with hearts and an infinity sign beautifully intertwined, just as your lives and souls are.
You can go for an infinity sign as a classic symbol of love – they make perfect finger tattoos.
They can be placed on a ring finger for unmarried partners, or on other fingers if married.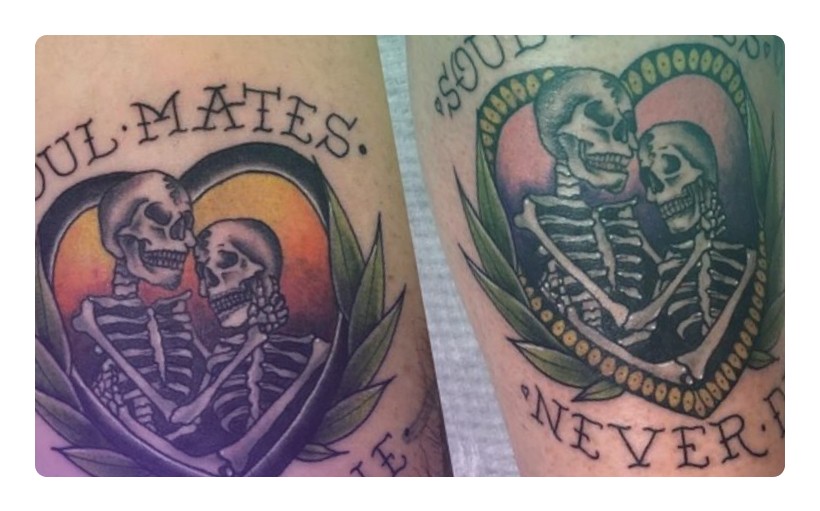 13. Colourful Niche Couple Tattoos Idea
Now, if you want to go really all in and with lots of detail and color, skull couple tattoos might be appealing.
Generally, when it comes to connecting with others online, one of the best ways to do so is through niche interests and hobbies. Fandoms tend to inspire things in many ways, such as the friends people make, the stories they create, and of course, romantic relationships people may find themselves in. From Star Wars to Hello Kitty, let your fandom inspire you.
14. Unique Couple Tattoos
You can even go for something more unique. Such ideas might be found via Internet tattoo images or catalogs. These can be beautiful animals, love birds (a term used for at least a couple of centuries to refer to couples in love), or "you complete me" signs.
Just go for the idea that feels special to you as a person and inspires you as a couple.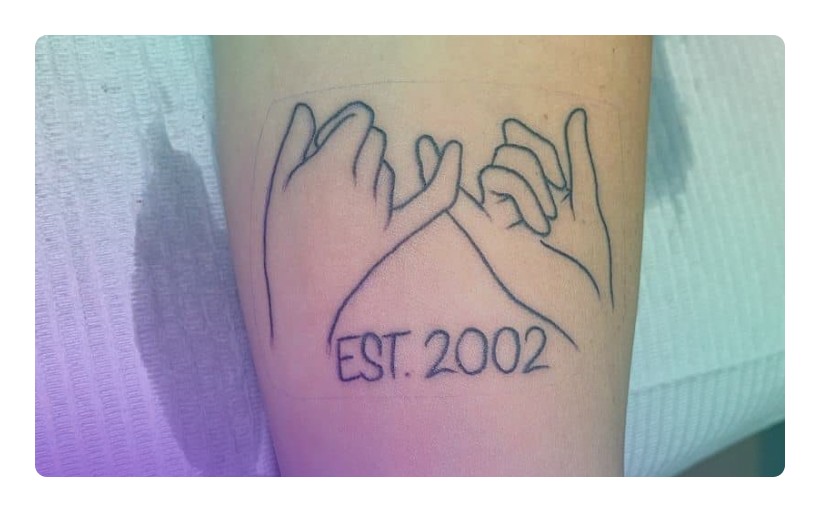 15. "Established in" Tattoo
A pinky promise tattoo is also common, symbolizing the joining of two people in partnership or marriage. The year of this union might be added for a deeper meaning.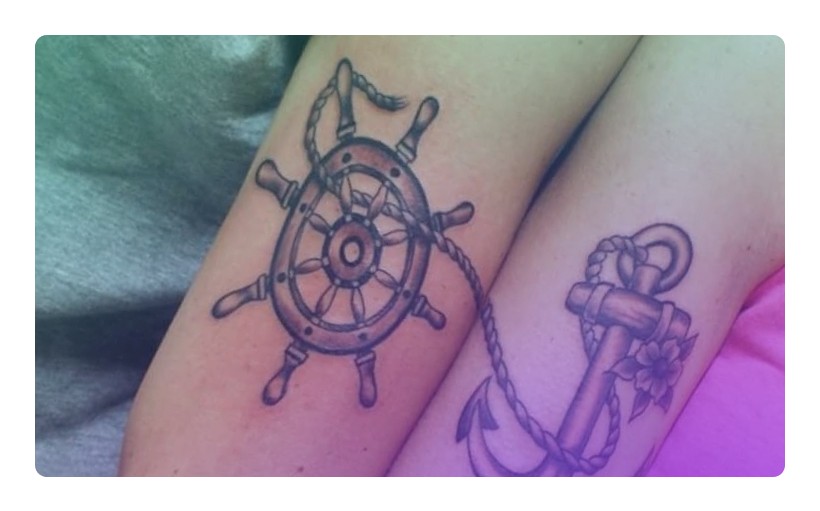 16. Couple Sailor Tattoo
Other "you complete me" tattoos might include nautical symbols -anchors, wheels, lighthouses, etc. Two anchor tattoos that are similar except for color are pretty popular too.
How about a charm necklace? These have been common for females for a long time, but men are not getting into the act. A great idea is for both to get the same design around the neck and then to have different charms that are a "fit."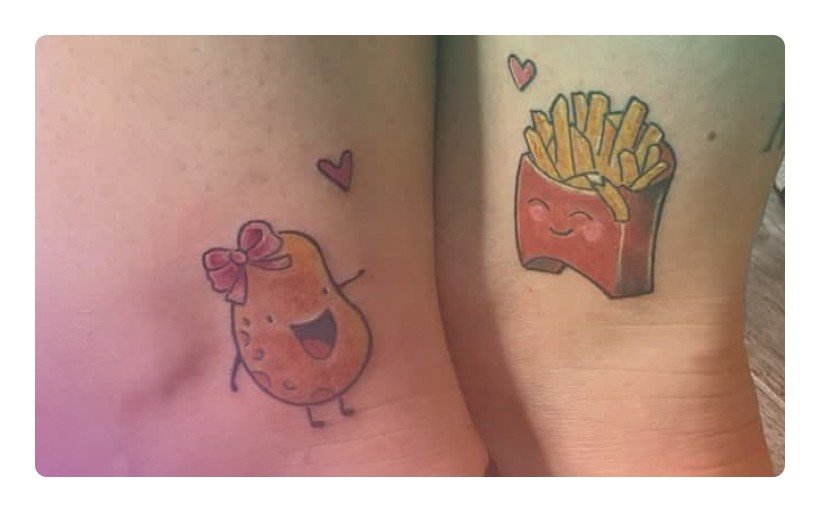 17. Mismatching Matching Tattoo
A couple tattoo does not always have to be matching. Sometimes tattoos for couples can be two different symbols or objects that just fit together, symbolizing the couple's fit. It could be a minimal tattoo like a tiny sun and moon; they could be delicate finger stamps of the yin and yan symbols. A couple's tattoo that says, "You complete me" or "Only you complete me."
Or something random, like a raw potato and a box of French fries.