When you are far away from each other, it can be hard to come up with great long-distance date ideas you and your partner can enjoy. But there is something you might like! Сheck date options you can try via phone or video chat to feel closer on a long distance!
Cute and Romantic Ideas for Long-Distance Dates
There are many ideas you can have for date night. Some of them are romantic or even sexy, and some could even be considered cute. Here are some romantic ideas for you and your partner to enjoy during your date night.
1. A Walk Together
Using your phone or video chat, you can take your partner with you on a walk no matter where they are. Remember that just because you are in a long-distance relationship, that doesn't mean you can't enjoy the great outdoors together. Put each other on video chat and enjoy the scenery together no matter where you are.
2. Virtual Museum Tour
Ever since the global pandemic, virtual tours of famous museums have grown immensely in popularity. No matter where you are in the world, for a small fee (or even for free!), you can experience the amazing features of museums worldwide.
3. Virtual Cooking Class
A simple video call isn't always enough to bring you together in a long-distance relationship. But you can feel closeness by learning something together. Taking a virtual cooking class is a great way for you and your partner to do something new and give you both the gateway to a different potential date idea.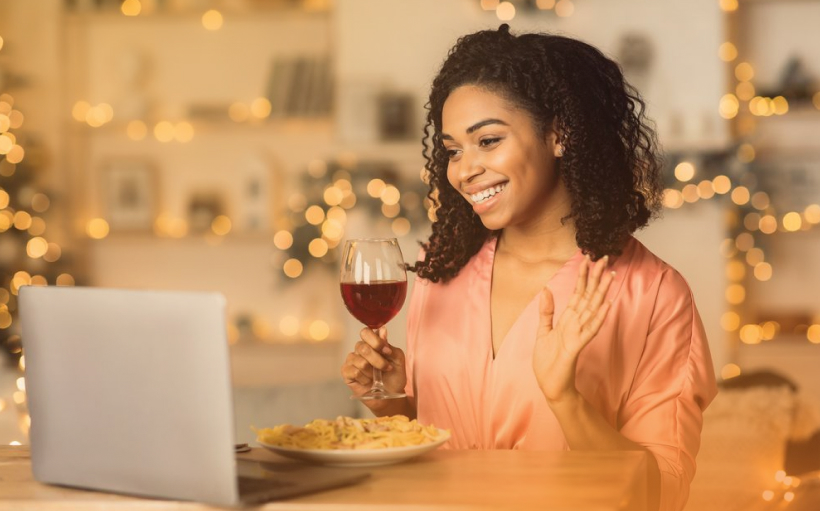 4. Virtual Wine Tasting
Are you wine aficionados? Don't let physical distance stop you from enjoying a romantic tasting experience! Gather together a few good-tasting wines that both of you enjoy. Make arrangements ahead of time, so both of you are drinking the same varietals.
Here's the plan for a virtual wine tasting date:
Sample your varietals together
Keep a secret scorecard where you rate the good taste wines and the wines that just don't hit the mark.
At the end of your video call, compare notes and see which choices you both like and where you disagree.
Later, use this information to build your home wine cellar!
5. Work Out at Home
This long-distance date idea with make you feel connected and get fit at the same time. Find a workout video that both of you can do together. Then, set a time to meet up online, and stay connected as you have fun working out together.
There are some great benefits to doing this with your long-distance partner. First, it gives you a shared activity to enjoy. Also, the two of you can set fitness goals together, and hold one another accountable for sticking with your workouts. So many benefits!
6. Go Out for Coffee While Video Chatting
After the hundredth time or so, a video call with your long-distance lover can be a bit boring. Sometimes, a change in scenery just makes things interesting. Also, it gets both of you out of your respective homes. That's a great way to shake off boredom and the sadness that comes from missing one another.
Go out and find your favorite spot. Get a great cup of coffee or your beverage of choice. Find a quiet table in the back, or go to the patio for some fresh air. You won't be in the same room, but it will be as close to sharing a coffee as you can get.
Related reading: Rainy Day Date Ideas You Ought to Try
7. Snuggle Up for a Screen Sharing Movie Night
During Covid, creative people learned ways to enjoy time with one another even if they couldn't be together physically. You can still do this. Get together for a virtual watch party, and enjoy a great movie. It doesn't matter where you both are.
Long-distance couples can use several methods to set up a watch party:
Cue up a movie on your TV screens while chatting over Zoom
Use Teleparty for NetFlix HBO Max, Disney+ or Hulu
Prime Video Watch Party Feature
Here are some more options for holding a watch party for a great film or TV show. Thanks to technology, you can watch together, chat in real-time, and enjoy a virtual movie night. Just wait until you are both settled in and press play.
8. Play Online Games Together
Those popular online games aren't just fun. They are a great way to engage in friendly competition while spending time together. You and your partner can find games virtually through social media platforms, websites, consoles, apps, and even Messenger.
While it can be difficult to keep phone calls interesting over time, there are virtually endless ways to engage while engrossed in an online game. Rather than ending a phone or video call where neither of you has much to say, you can enjoy playing virtual games together for several hours.
Just do a quick Google search to find something both of you will enjoy!
9. Start a Two-Person Book Club
Get on the same page, literally! If you are both into books, form a two-person book club with your long-distance partner. The best thing about this idea is that as the only two book club members, you can choose something that both of you will enjoy reading.
There are so many options here. Read the books on your own, and meet up to enjoy some quality time while discussing what you've read. If you prefer, both of you can take turns reading out loud to each other. That's a great choice if you're working your way through something romantic.
Related reading: Quality Time – It's a Love Language
10. Virtual Cocktail Party for Two
Long-distance relationships can drive you to drink. So, why not drink together? Feel free to set up a video call as you both prepare a unique cocktail. Try something you've never had before, or go high-end with top-shelf liquor.
You could also be a bit experimental. Each of you can concoct your own cocktail or mocktail recipe to try together. Just beware that after a few drinks, your video calling might get a little frisky.
11. Visit a Virtual Haunted House
You've probably taken a virtual house tour if you've ever been house hunting. A virtual haunted house combines the technology used during an online house hunt with a haunted space. Even better, you can choose from a wide range of options.
There are virtual tours of haunted ships, historic homes, cemeteries, and even prisons. Grab a few brews, join up online, and prepare to get scared.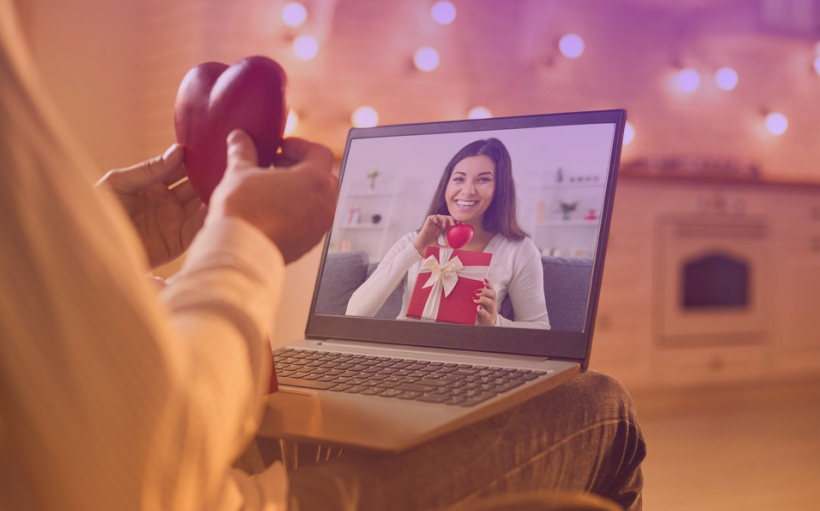 12. Send Each Other Care Packages to Open at the Same Time
This is a fun way to engage in gift-giving and brighten each other's day. Go shopping for one another, and wait for your packages to arrive. Then, arrange an online dinner date where you both open your packages together.
Don't buy anything extravagant. The idea here is to do some gift and food shopping to give your partner some fun, thoughtful treats. Here are a few ideas:
Favorite teas or coffees
A few bottles of local sodas or microbrews
Slippers or grippy socks
Chocolates or other candies
Homemade snack mixes
Candles
Lotions or creams in their favorite scent
Gift cards for local coffees hops or carryout
A book in their favorite genre
Hobby or craft supplies
You'll enjoy opening your own surprises, but more than half the fun is seeing how they react to your gifts.
Related reading: The Love Language of Gift Giving
13. Treat Yourselves to a Spa Night
If you gift your partner with skin and other self-care items, your next virtual date can be a spa night. You can both enjoy endless fun and pampering.
Start a video convo as both of you go through your favorite spa rituals. If your partner isn't quite familiar with this kind of beauty care regimen, don't worry! Guide them through the process, and they may find a new passion for taking amazing care of themselves.
14. Try Star Gazing
No matter where you are, you are both under the same sky. Sometimes, you can even see the same stars. So, go outside! Bring your phone. and a telescope or a pair of binoculars. You may be able to check those out at your local library. Show one another what you are each seeing. Use a simple photo-sharing app to save the best pictures. Then, turn those into a custom-printed photo album.
Do you see a constellation? Try to help your partner find it wherever they are. It's okay if you aren't sure what you are looking at. There are stargazing apps that can help you figure it out. If nothing else, both of you will enjoy time together outside. Also, if there's too much light pollution for stargazing, try searching Google Maps. This will give you locations that are known for great visibility.
Related reading: How to Know If You Are a Hopeless Romantic
15. Binge-Watch Your Favorite TV Show
You may not be in the same place, but you can still Netflix and chill. Just pick a show you both want to watch and make a pact to wait until date night. Then, cue it up and hit that little triangle icon.
16. Watch a Concert Together
Your favorite artist is on tour. Unfortunately, there's no way that you can afford to drop a grand or so on tickets. Good news! They are streaming a concert for their fans. Why not turn that into a date?
Be sure that both of you know how and when to tune in. If time zones are an issue, you may need to use a VPN to get around that. Now, both of you can enjoy the concert together.
17. Play a Board Game
Make your date night a game night! This time, you're going the traditional route.
There are so many board games you can both play together, even if you are far apart. One option is to find a platform that allows you to play board games online. The other is to buy two copies of the same board game for each of you. Chess works particularly well for this.
18. Create Something Together
If your nightly video calls are boring for both of you, do something creative. First, sharing a hobby is good for your relationship. When you have a shared interest, you always have a reason to spend time together.
What if you simply can't find a craft or project you can work on together? That's okay. As long as you are engaging in creativity together, you'll still enjoy the experience. So, feel free to create customized episodes of that new animated toon you've been conceiving while they work on that watercolor of the beach you both love.
Related reading: Does Distance Really Make the Heart Grow Fonder?
Long Distance Date Ideas That Will Bring You Both Closer
Is quality time your love language? These date ideas will strengthen your bond with much deeper level of presence and care for one another.
19. Make Each Other Playlists and Go Over Them on a Video Call
Take a few days to come up with some playlists that your partner will love. Think about what will make their workday, commute, workout, or just relaxing at home a bit more enjoyable. Make their preferences a priority, but also introduce them to some songs you think they will love.
Then, get together for your nightly call, and hit the play icon. You can both enjoy a night of great music and take away your own customized playlists. You'll also learn a bit about how they view your musical tastes.
20. Cook Your Favorite Childhood Dishes
Couples that spend time cooking together can truly bond over an experience that connects us all. Take a favorite recipe from your childhood or theirs. Then, video chat while both of you prepare the dish in your own kitchen. Then, share a meal together. You can both discuss the meal and the memories associated with it.
There are some great alternatives to this. You could both take a local virtual cooking class together. Also, consider splurging on a personal chef to make your partner an amazing meal while you join virtually with a glass of wine and an amazing spread of your own. It may not be the same meal, but you will enjoy a luxury dining experience.
21. Have a Game Night With Friends
No, you don't have to give up group dates simply because you are long-distance. Get your friends together for some online gaming. Divide into teams and challenge one another on your favorite platform, or pick a collaborative game to play together.
If you don't have friends that enjoy online gaming, you can get on Zoom or other group chat to play some humorous party games. Or, sign your group up for a virtual psychic reading – just for fun!
22. Plan a Future Trip
Eventually, you and the one you love will be reunited. Prepare to celebrate that with an amazing trip. Get together and plan every detail. Choose your destination, the route you will take, the restaurants you'll try, and the amazing places you'll stay.
Is a luxury vacation not in your budget? That's fine! It's still fun to create a fantasy vacation for the future.
23. Send Snail Mail To Each Other
Most people love receiving mail that isn't junk or bills. So, make your partner's day and send them some snail mail. Write a romantic love letter. In some ways, that's more of a turn-on than phone sex.
Alternatively, you can go the slightly sappy route and make them handmade cards.
24. Test for and Share Your Love Language Results
Do you know your love language? What about your partner? Find an online love language test to take. Then, plan a date around revealing the results to one another.
25. Plan a Virtual Date Around One of Your Partner's Favorite Activities
Sometimes, it's okay to make it all about them. Give your partner the gift of being the center of attention. Take some time to plan a virtual date that involves all of their favorite things. Have their favorite meal delivered to them. Queue up their favorite show to watch together.
You can even brush up on their favorite topics to start some interesting conversations.
26. Create a Shared Photo Album
Go through your camera rolls and pics you've posted on social media to create a shared photo album or a collage. You can save these to be displayed on a digital picture frame, or create a themed presentation.